Karcher CB3 automatic car wash:
The Karcher CB3 is a robust and reliable gantry car wash. It is suitable for all common passenger cars. The low-wear drives and sealed bearings ensure high maintenance intervals. All steel parts are hot-dip galvanized and powder-coated. All components that get in contact with water and cleaning agents are made of high-quality plastics or stainless steel. The frame is hot-dip galvanized and powder coated in RAL 7012.
Many of our customers enjoy low running costs. One operator can comfortably wash 60 cars per day.
The Karcher CB3 will take on average 5 minutes to wash and dry a car.
See table below to help understand how an automatic car wash can save you time and money. If you have rainwater available, running costs can be further reduced.
| | | | |
| --- | --- | --- | --- |
| Item | Cost | Consumption per wash | Cost per wash |
| Reclaimed water | $0.00 | 100 litres | $0.00 |
| Fresh water | $2.71 per kilolitre | 90 litres | $0.24 |
| Electricity | $0.28 per kWh | 0.415 kWh | $0.12 |
| Wax | $99.00 per 20L | 12ml | $0.06 |
| Soap | $67.15 per 20L | 10ml | $0.04 |
| | | Total | $0.46 |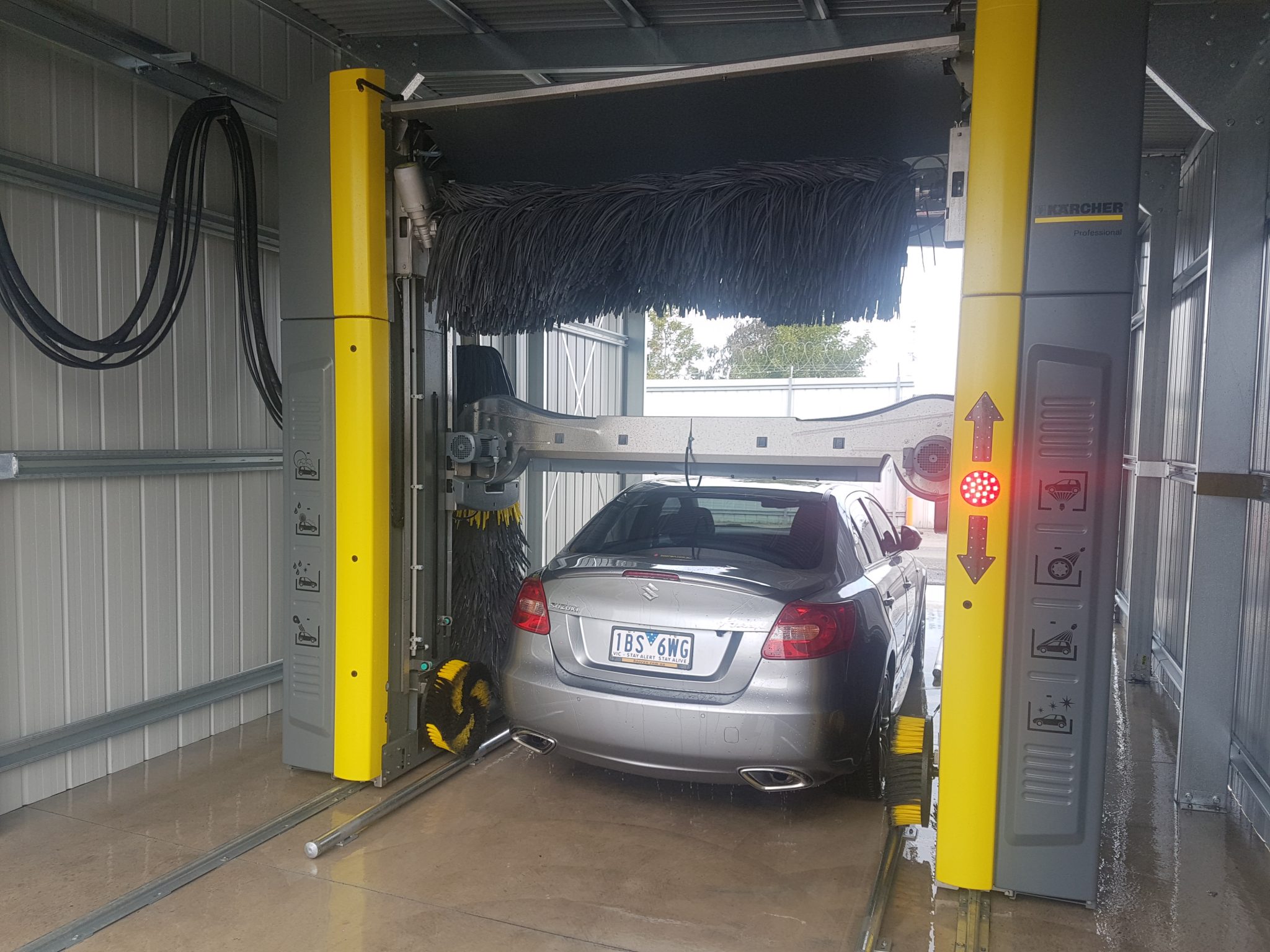 Manual wash bay-Karcher HD Stationary high-pressure pump
We offer high-pressure wash bays in two configurations.
You can have the high-pressure pumps in the wash bay or mounted in a plant room.
The use of roof-mounted boom arms means that no hoses are dragging on the ground, saving ongoing repair costs.
Some stand out features of the Karcher HD Stationary pumps are:
You can use quickly switch from soap application to high-pressure rinse at the gun.
After 5 minutes of non-use, the pump switches in to standby mode which relieves all pressure from the lines, prolonging the life of components.
Suitable for incoming water feed of up to 85°C.
Dry running protection.
Pump is fitted with robust ceramic pistons.
Fitted with an operating hour counter for efficient servicing.
We also offer industrial vacuum cleaners which are mounted in the wash bay, making it easy for an operator to quickly clean and vacuum a car in a single bay.